Get ready: I'm about to talk to you about one of my all-time favorite authors whose books I own exactly zero of. Confused? Let me explain. (It's R.L Stine).
Today is R.L. Stine's birthday (happy 76th to the king of creeps!). I couldn't let the occasion slip by without an ode to the famous storyteller.
As a kid, I didn't become a huge reader until I discovered R.L. Stine's iconic Goosebumps book series in my local library. During the summers in Elementary school, my mom would take my brother and I to the small branch in town and release us to find a few books. I'm sure the idea was to enrich our minds with wholesome reading material, like The Boxcar Children or Wally McDoogle. Naturally, we both gravitated to the shelves filled with the colorful spines of Goosebumps. An hour later, we would be home, laden with half a dozen books each. We'd pile all the pillows and blankets we could find onto the floor to build "the reading corner."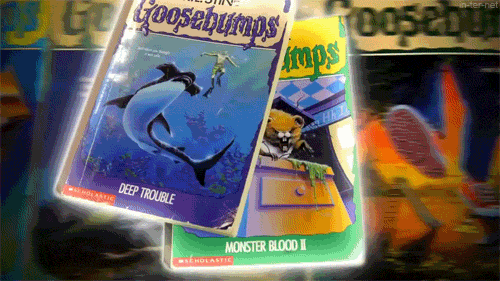 The reading corner became a childhood summer tradition, and I managed to read TONS of Goosebumps books because of it. But what I didn't realize at the time was how much I was learning to love reading. So, to honor R. L Stine on his birthday, here are five things Goosebumps books taught me about reading.
1. Cliffhangers are Key
One of the things that made Goosebumps books so enticing to me as a child was that every single chapter ended in a cliffhanger. Now, this might seem annoying to me now as an adult. But as a kid, the cliffhangers allowed the book to not only keep my attention, but made reading it insanely addicting. What was going to happen next? Why did the lights go out? Whose hand grabbed the protagonist's shoulder? What did they see that caused them to scream?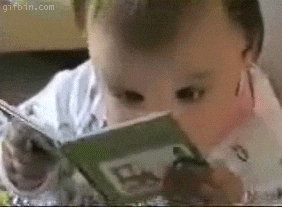 The chapters were also short and easily digestible. This made "I'll just read one more chapter" quickly evolve into reading the entire book in one sitting. Not that that's a problem.
To this day, whether I'm reading a thriller or a YA dystopian novel, cliffhangers at the end of chapters make a huge difference in whether or not I really "get into" a book. With chapter ends being the best spot to put down a book, having the chapter end in a mystery – or sudden reveal – piques my interest and gives me a sense of urgency to return to the book as soon as I can to find out what happens next.
2. Suspense Doesn't Have to Mean Scary
In addition to cliffhangers, Stine also built a lot of suspense into the narratives of his spooky books. I love a good creepy suspense, but there are plenty of readers out there who steer clear of books labeled "suspenseful" because they equate suspense with fear. Technically, suspense is defined as "a state or feeling of excited or anxious uncertainty about what may happen." If you learn to recognize the suspense in the excitement of action, the thrill of new romance, and the drama of change, your opinion of suspense might shift.
While the premise of Goosebumps books has always been spookiness, Stine utilizes suspense that isn't scary just as often – if not more – than creepy suspense. As a reader, it keeps you on your toes. Plus, it challenges you not to think you always know what's coming next.
3. Finding an Author You Love Will Feed Read You For a Lifetime
Okay, maybe not a lifetime. But you get my point. One of the best ways to get into reading – as a child or an adult – is to find one book you love and then read other books by that author. The Goosebumps books were technically part of a series, but each stood alone as a story (sans a couple of Night of the Living Dummy sequels). Since I had loved the R.L. Stine books I'd previously read, every visit to the library resulted in another armful of his books.
As an adult, having a few tried-and-true favorite authors is the best way to escape a reading slump. Not sure what to read next? Can't go wrong with Stephen King. Still shocked by Gone Girl? Time to check out Gillian Flynn's Sharp Objects. Read all of Brandon Sanderson's books? Find a book by another author he recommends. These connections can go a long way in keeping you interested in reading.
4. Books Defy Stereotypes (But Don't Overstep Boundaries)
In my college rhetoric class, I gave a speech about Goosebumps books. Namely, arguing that they are not only "okay" for kids to read, but beneficial. I know, I know – advocating for children to read scary books is a good way to get on people's hate list.
But here's the thing. Goosebumps books defy the stereotypes around "scary" books, and even "scary kid's books." They aren't about cheap thrills, but life lessons. They encourage bravery and adventure. And they teach children to love reading, which was R.L. Stine's intention all along. But they don't overstep boundaries – i.e. there's no murder, no death scenes, no blood or gore. The scariest thing is seeing "THE END" at the bottom of a page. Stine wanted to make books exciting for kids, but never breaks into the realm of obscene or even questionable.
5. Books CAN be Innovative
I still distinctly remember the first Goosebumps book I picked up. Secret Agent Grandma. The holographic cover was the first thing that grabbed me (yay, 90's trends!). But this was no ordinary kid's book – it was in the "Give Yourself Goosebumps" Series. The tagline was "Reader beware – you choose the scare!" and boy, was it on point. The books in this series are written in the SECOND person, aka from the perspective of YOU, the reader. The language arts scholar in me was shocked that any book was allowed to be written in second person perspective.
The main premise of the book style was that you had the ability to literally choose the plot of the story. Every few pages, you were faced with a decision. Each option (usually two, sometimes three or more) directed you to flip to a different page further on in the book. At that point, you would either see a big black "THE END" at the bottom of the page, or the story would continue until the next decision.
If you reached an end, it indicated that you'd made a horribly bad decision and essentially killed off yourself, or you simply avoided the conflict altogether and lived happily ever after. So you could get through the whole story and have only read half of the pages in the book. That's why I read these books armed with sticky notes so I could mark all the decision pages and flip back when I hit an end. Then, I'd just continue on with the alternative choice.
Innovative choices like these exist in all kinds of books. They can take the form of unconventional chapter headings, unreliable narrators, or even unusual type settings and page designs. If you need a break the standard run-of-the-mill storytelling, consider a book that pushes the boundaries of expectation.
Did you read any R.L. Stine books as a kid? Tell us your favorite in the comments!
Looking for a new read to get into? Check out our Beginner's Guide to Stephen King, or peruse our list of the Best Fairytale Retellings.