For fans of the beloved country singer June Carter Cash and her husband, Johnny Cash, it doesn't get much better than a biography written by their son.
John Carter Cash's Anchored in Love: An Intimate Portrait of June Carter Cash is a candid look at his life growing up as the child of two amazing country music stars, looking up to parents who had just as many downs as they did ups.
It's also his memoir of fearing for his parents' separation as a kid and growing up with depression and addiction himself. It's a must-read in the sea of Johnny Cash books. 
June Carter grew up in Virginia and was part of one iteration of the Carter Family band, changing the landscape of folk and bluegrass music forever. She was in the spotlight often as a child and it brought out her vivacious personality, which led her to the famous singer Johnny Cash in the late 1950s. They were married for forty years and died mere months apart after decades of addiction and abundance—and one son—together.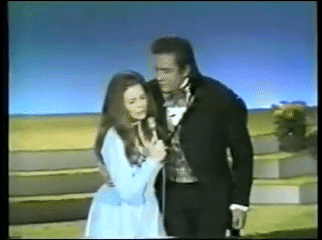 Anchored in Love is a beautiful tribute to June Carter Cash full of tender stories and wonderful secrets that only her son could know.
Here are a few of those features of an iconic woman. 
Two thousand thank-you notes
When Johnny Cash announced the birth of their son, John Carter Cash, on The Johnny Cash Show, the family received flowers and cards and letters of congratulations from people across the world. And June, being the polite southern woman she was, sent more than two thousand thank-you notes for each and every gift they received. 
Mystical medicine bag
June was a seasoned traveler, and with her long career on the road came certain tricks of the trade. One of those was the ever-present medicine bag with pills to cure anything—constipation, headache, sleepiness, you name it. But that medicine bag also became a source of problems for the Carter Cash family, especially when Johnny Cash was falling deeper into prescription drug addiction. June, however, always kept her head, awoke him from his stupors in hotel rooms, and maintained her faith in her husband as the good man he was beneath the pills. 
Steadfast faith in God
Throughout all of John Carter Cash's life, his mother remained strong in her faith. Once, on a walk in the woods, they went off trail and when her son wanted to turn back before getting lost, June urged him to keep faith that the path would appear to them as it was meant to unfold. And it did. She always lived her life with that certainty that the Lord would do His work to take care of their family. 
The most valuable klediment
A klediment is a southern word for treasure, and June loved her klediments, be they lace doilies or other knick-knacks. But the one that was most important to her was family, and not just her children. She remained desperately close to her parents, siblings, and extended family, never living too far from any of them and always caring for each member of her family deeply. 
Anchored in Love tells the story of a wonderful woman who lived most of her life in the spotlight and maintained her faith in God throughout it all. A son's perspective gives this story an extra layer of sweetness. 
Ashley Holstrom is a book person, designing them and writing about them for Book Riot. She lives near Chicago with her cat named after Hemingway and her bookshelves organized by color. 
PAGE CHASER IS AFFILIATED WITH THE FOLLOWING IMPRINT: THOMAS NELSON