T.S. Eliot wrote about coffee in his famous poem
The Love Song of J. Alfred Prufrock
:
"I have measured out my life with coffee spoons."
And may I just say: I totally relate, Ol' Tom Stearns Eliot. Because coffee is part of my life-blood and I won't apologize for my caffeine addiction. You cannot make me.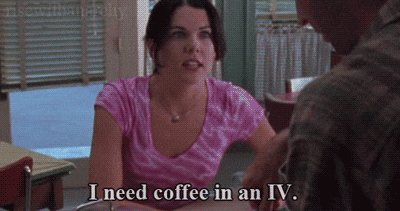 And there's nothing I love more than combining literature and coffee together. So, in honor of International Coffee Day, I've brainstormed the literary figureheads that - if it was possible - I would totally share a cup of coffee with.
Jane Austen
She's cheeky, bold, and is my figurehead of writing books for women by women (men, Jane Austen is totally for you as well, it's just going to be a story from a woman's POV written by a woman and that is pretty cool, right?). Also, I want to chat with romance-writer iconoclast about her mysterious love life. Plus, we can laugh about silly people, because her books are just full of silly people.
C.S. Lewis and Joy Davidman
I'm combining these two because their writing is a beautiful thing, and their love story is pretty amazing. Also? Although Clive gets the credit for my FAVORITE BOOK OF ALL TIME Till We Have Faces, there needs to be a co-writing credit there from Joy Davidman. (Sidenote: If you haven't read Till We Have Faces, RUN DON'T WALK to read it). Celebrating International Coffee Day with these two would be both cerebral and amazing.
G.K Chesterton
Poet, essayist, and the father of the Christianity staple-read Orthodoxy (and also of a really awesome thriller novel The Man Who Was Thursday), I would love to sit down ol' Gilbert to get A) Writing Advice B) Chat about faith C) Listen to his voice because it's so delightfully British
Mark Twain
Good ol' Samuel Clemmons was a complicated man, but boy, could he write a satire. I would love to sit down, have some coffee, and just listen to him be funny for a good while. Also? I'd like to see him navigate drinking coffee with that epic mustache.
Madeleine L'Engle
This woman has written some of my favorite books, she was both fascinated by the cross-section of Christianity and science and wrote over forty books. I feel like only time separated us from being the best of pals. Maybe somewhere in the great hereafter, we'll meet up for that cup of coffee. Also, I've talked about my love of her before at Page Chaser, so you already know my enthusiasm.
What authors would you like to hang out with on International Coffee Day?
Want to read some literature from or about the above authors? Check out our recs:
PAGE CHASER IS AFFILIATED WITH THE FOLLOWING IMPRINTS: THOMAS NELSON & ZONDERVAN